September 1, 2009
Sheesh, I barely know how to use this thing anymore!
I just realized I forgot to show you this: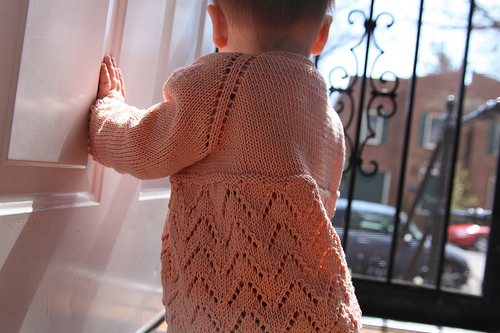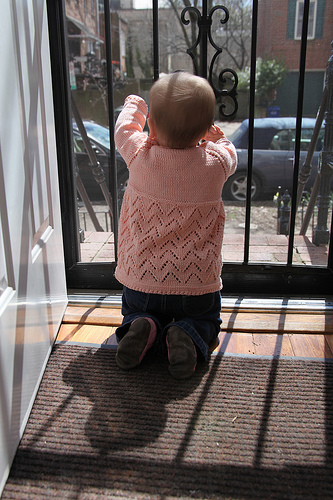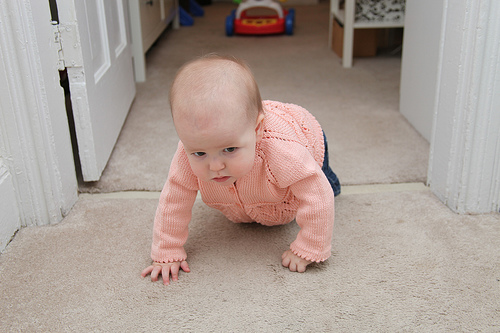 The only picture I have of the front!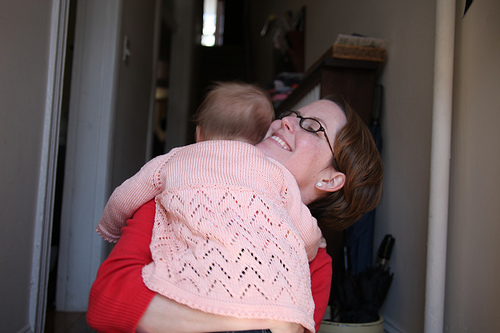 My payment. :)
The pattern is
Helena from Knitty
. The yarn is cotton, but I don't have the information at hand. Can you tell I'm out of the knitblogging habit?
Those pictures were taken back in March when it was still light-sweater weather. Annabelle is much bigger now. How much bigger? This much bigger: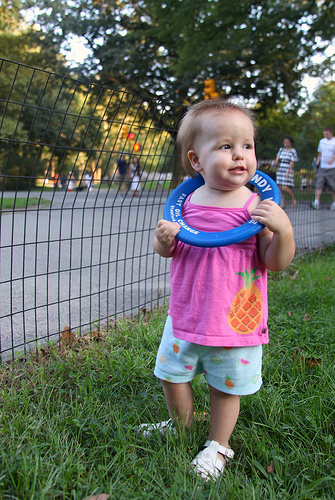 It's a frisbee! It's a necklace!
Posted by shannon at 9:28 PM | Comments (1) | For related posts: For Annabelle
November 19, 2008
Hey, I Knit Something!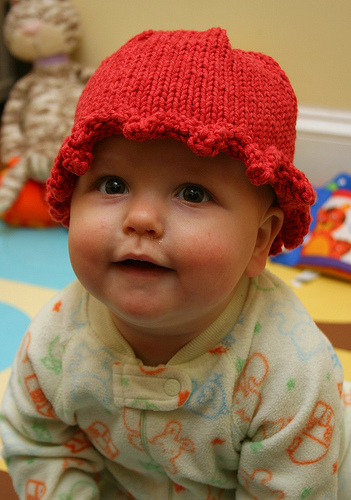 Nobody's more surprised than me, but I started and finished an entire knit object last week. The arrival of cold weather meant Annabelle was wearing the knit hats friends had knit for her quite a bit, and I was fielding a lot of "did you knit that?" questions. I just couldn't stand saying "nope!" all the time, so I went looking for a cute hat pattern. I settled on the Lilly Hat (Ravelry link) and used leftovers from my Very Necessary Sweater.
I made it a bit longer than the pattern calls for so it would cover her ears a bit. I actually think I went a bit overboard on the length, but I'm trying not to over-focus on the imperfections. The pleasure I get from answering the "did you knit that?" in the affirmative makes it much easier -- as does the extremely high cute quotient of the model!
Posted by shannon at 10:20 AM | Comments (4) | For related posts: Baby Hats, Cheezit
November 2, 2008
Too Full for a Title
Y'all, my life is full. Full full full. Annabelle is growing like a weed, and a delight most of the time. And I got a new job (which, to those who know me, should read: I GOT A NEW JOB!), so days have a new routine as we figure out daycare pick-up and drop off.
I am, however, knitting a bit. And I finally, finally finished Annabelle's blanket. When I got back to knitting it, I reviewed the rest of the pattern. After finishing the squares, all I really had left was to knit and attach the border, and then embroider the circles. I stalled for a day or two, and then came to a realization: if I wanted to call this blanket done before the cool weather arrived, I was going to have to ignore the pattern. Instead of knitting the border separately and sewing it on, I knit it directly onto the blanket. And this blanket will not have any circles. It's done.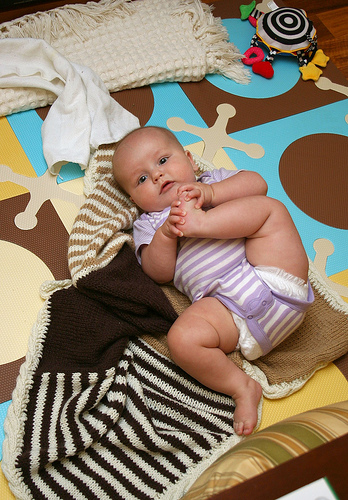 It's not perfect. The attachment of the border is a bit rough, and I'm sure it would look really cute with the circles sewn on. But time passes too fast and my days are already plenty full -- and I'd rather Annabelle had an imperfect blanket to love than no blanket at all.
The only other knitting I've done since then has been a scarf for me, the repair of a hole in a friend's favorite sweater, and several inches on a sock for Jason. There's so much more I want to do, but... did I mention my life is full? Here's two shots from this weekend alone!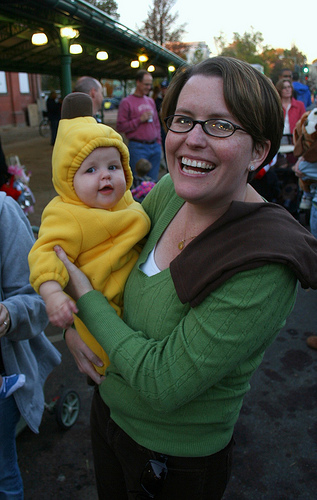 Anna the Banana on Halloween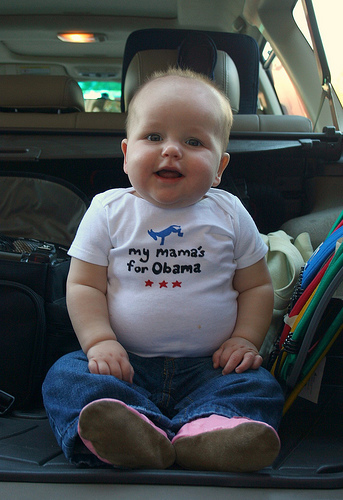 Knocking on doors in Virginia for Obama
I hope your lives are full, too!
Posted by shannon at 8:58 PM | Comments (8) | For related posts: Annabelle's Striped Blanket, Cheezit
August 14, 2008
I do not think that word means...
Could somebody tell Cynthia Potter, NBC's color commentator for Olympic diving, that the word she's looking for is not "precise-ness", but rather precision?
I keep yelling the correction at the television every time she says it, but she doesn't seem to hear me.
Posted by shannon at 4:36 PM | Comments (5) | For related posts:
August 12, 2008
Itchy Fingers
It was very faint at first, but over the last two months the "itchy fingers" feeling has gotten stronger. I found myself thinking fondly of yarn, and feeling twitchy during the (brief) times I was watching television with nothing in my hands. I waited a few weeks to be sure, but I can no longer deny it: the knitting feeling is BACK!
I started a blanket for Annabelle (nee Cheezit; actually, still sometimes Cheezit!) before she was born, but it suffered the same fate as all my projects: complete neglect. It was the first thing I reached for when the itchy fingers set in.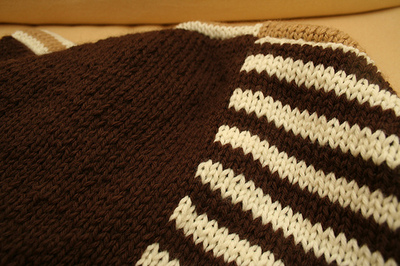 The pattern is Circle and Stripes Stroller Blanket (Ravelry link!) from Susan B. Anderson's Itty-Bitty Nursery, and the center pieces are done and seamed. All that's left is the border and the crocheted circles. I used Dark Horse Fantasy, which is (*gasp*) acrylic. I have no way of knowing if I've passed my tragic wool sensitivity on to Annabelle, so I'm keeping it at a distance for now. And I wanted something super durable; I want this blanket to get lots of lovin', so anything with special care instructions was out. It's very soft, and while it doesn't have the elasticity of wool it feels pretty good next to the skin.
And speaking of baby (kind of, anyway), here's a gratuitous baby shot.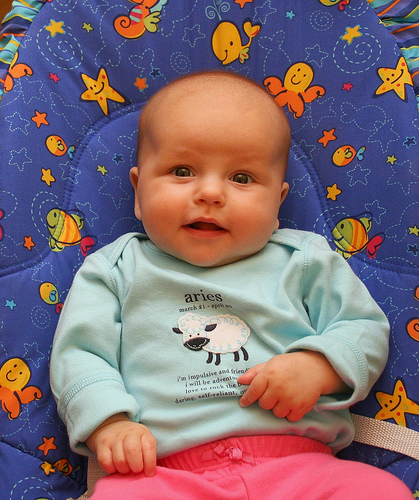 How are all of you?!
Posted by shannon at 10:23 AM | Comments (4) | For related posts: Annabelle's Striped Blanket, Cheezit
March 27, 2008
Cheezit has landed!
Just a quick note since I have a squirming infant on my lap (!!!) -- Annabelle (aka Cheezit) arrived on Saturday, March 22. Everything went well, she's healthy and we're adjusting to life with a newborn. This is fun!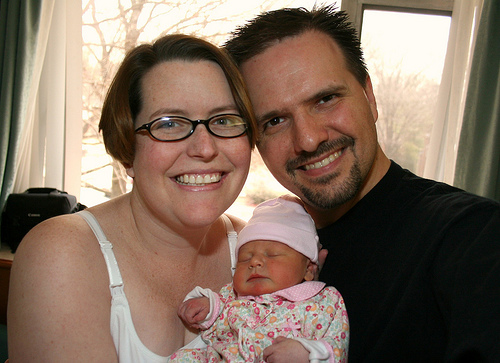 Leaving the hospital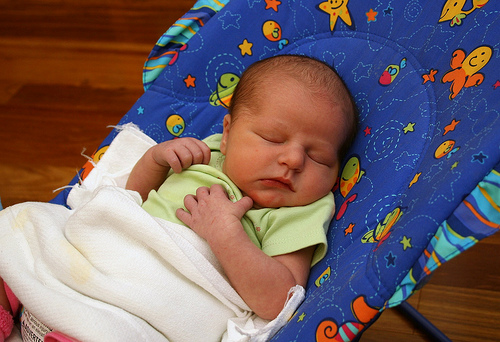 Chillin' at home
Thanks for all of your great comments on my last entry... they definitely helped me enjoy those last few days before she was born!
Posted by shannon at 10:55 PM | Comments (24) | For related posts: Cheezit
March 19, 2008
Ding!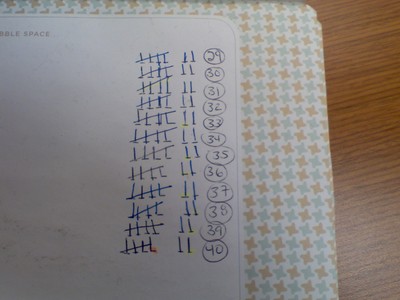 Pregnancy can seem to pass very slowly -- at least it has for me. One of the things I did to help the time pass a tiny bit faster was mark off every day on a notepad on my desk at work. When I got into the office this morning, it was quite a triumphant feeling to mark off the last day of the 40th week of my pregnancy. That's right, today's Cheezit's due date! It's been surreal and exciting to see both of my due date buddies have their babies already!
One of the weird pregnancy symptons I've experienced has been a lack of desire to knit. Can you imagine? It's been so distressing. (Fortunately, others have stepped in and produced some beautiful handknits for Cheezit... more on that later.) It's also a large part of the reason that I've been so quiet here -- nothing to show!
The next time I post here, I'll probably have a newborn so I won't make any promises about the imminent return of knitting content. But it -- and I -- will be back. Wish us luck!
Posted by shannon at 11:12 AM | Comments (11) | For related posts: Cheezit